FRIULCAMION.
THE PROFESSIONALS
OF ROAD HAULAGE.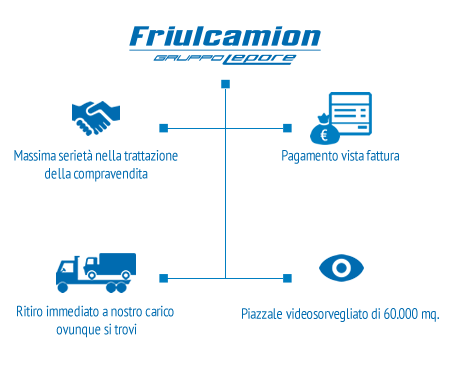 We are two companies, FRIULCAMION S.r.l. and LEPORE COMMERCIALE S.r.l. (LEPORE GROUP) that have been operating in the automotive sector on a national and international scale for approximately 30 years. We buy and sell new and second-hand vehicles, from cars of any make to commercial and industrial vehicles, to construction and earth moving equipment.
We offer a large selection of brands and types of vehicles that are updated continuously, selected, and renewed based on select specifications.
In the last few years, we have been developing a service dedicated to private clients who can always rely on our staff's professionalism, courtesy, and availability. You can choose by viewing all the best vehicles, reserved, refurbished, and guaranteed for you and, if necessary, benefit from a financing tailored exclusively to you.
Our daily mission is to meet the client's needs.
Furthermore, we are always available to buy any vehicles your business no longer needs, in any condition, even if damaged or defective. We provide the utmost professionalism and courtesy, immediate payment and pick-up at our expense.
Please contact us and come in for a visit at our branches. We will always be happy to see you.
We look forward to meeting you.
Emiliano Lepore
Massimiliano Chiavacci